Welcome!
Kintetsu Department Store, 
Uehommachi Floor Guide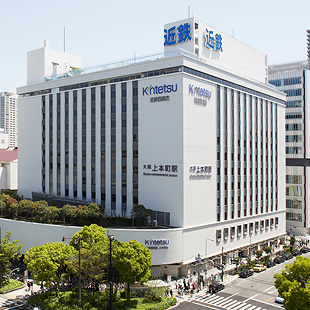 Business Hours:
From 2nd basement level to 2nd floor, 10th and 11th floor: 10:00 AM to 8:00 PM
3rd floor to 9th floor: 10:00 AM to 7:00 PM
Some areas of M2 (Mezzanine level): 9:30 AM to 10:00 PM
Areas of 9F: 10:00 AM to 8:00 PM
●Food mall on 12th floor: 11:00 AM to 10:00 PM
●Cafe on 1st floor: 7:30 AM to 9:00 PM
●Coffee house in 1st basement: 8:00 AM to 10:00 PM
●Japanese noodle shop in 1st basement: 10:00 AM to 9:30 PM
Accepted credit cards:
VISA, MASTER, AMEX, UC, JCB, DINERS and others
Address:
6-1-55 Uehommachi, Tennoji-ku, Osaka, 543-8543 JAPAN
Access:
Get off Kintetsu Nara Line or Kintetsu Osaka Line at Osaka Uehommachi Station.
Get off Osaka Subway Tanimachi Line or Sennichimae Line at Tanimachi 9-chome Station.
TRANSPORTATION MAP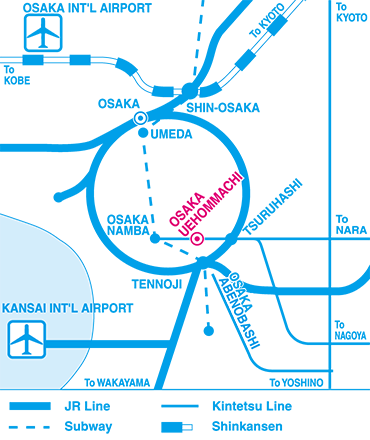 ACCESS MAP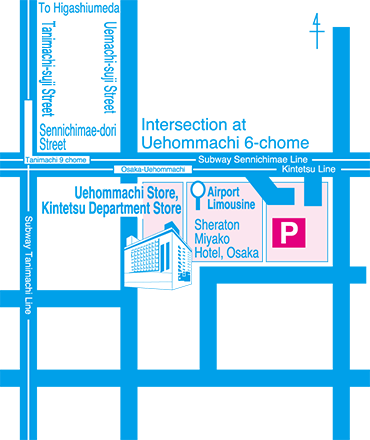 R

F

12

F

■Restaurants
11

F

●Books ●CD & DVD ●Office and stationary supplies ●Art supplies
●Old coins and stamps ●Personal seals and printing
●Musical instruments including pianos
■Cafe
10

F

●Eyelash extensions
●Women's pogonotomy salon ●Nailarium
●Nursing care products ●Hearing aid salon
■Hair salon
9

F

●Kimono ●Kimono items
■"Nitori Express" Home Fashion (Specialized in interior goods and sundries)
8

F

●Relaxing and sleeping items ●Bedroom goods and pajamas
●Beds and bedclothes ●Towels and other items for bath and lavatory
●Japanese and western-style furniture and carpets ●Interior fabrics
●Interior decorations ●Buddhist alter ●Japanese and western-style tableware
●Cookware and dining utensils ●Arts and crafts ●Hanging scrolls
●Hobby goods ●Gift salon ●Soaps and cleaning materials
■Art gallery ■Duty Free counter
7

F

■Baby Products Shop
●Children's wear and goods ●Baby wear and goods
●Childbirth preparations and maternity wear ●Toys ●Video games
■Baby salon ■School for infants
6

F

■Sporting Goods Shop
●Men's casual wear ●Sports wear and goods
●Golf wear ●Outdoor goods ●Casual bags
■Japanese noodle (Shinshu soba) shop
5

F

■Home Electronics [EDION]
●Men's fashion floor ●Dress shirts ●Neckties
●Men's underwear, nightwear and socks ●Men's shoes
●Men's bags, wallets and belts ●Umbrellas for men ●Hats for men
4

F

●Ladies' fashion floor (for matrons) ●Jewelry salon
●Watches salon ●Glasses salon
■Cafe
3

F

●Ladies' fashion floor ●Large and small sizes
●Ladies' underwear, relaxing wear and nightwear
■Cafe
2

F

●Ladies' fashion floor (for young ladies and career women; special boutiques)
●Aromatherapy goods & Herbal goods ●Ladies' shoes
●Travel goods ●Travel bags
■Information booth
■Exit to parking garage of the Sheraton Miyako Hotel, Osaka
■Cafe
M2

F

●Drugs & Cosmetics Matsumoto Kiyoshi (9:30 AM to 10:00 PM)
■SAC'S BAR (Bags) ■Shoe repair and key cutting
1

F

●Cosmetics ●Accessories for ladies ●Umbrellas ●Ladies' hats ●Scarves
●Belts ●Ladies' socks and stockings ●Handkerchiefs ●Flower shop
■Information booth ■Cafe ■ATM (Seven Bank)
B1

F

●Sake, wines and spirits ●Fresh fish ●Dressed meat ●Vegetables ●Fruits
●Groceries ●Dairy products ●Tofu ●Japanese pickles
●Dried-salted products ●Chilled groceries
●Prepared foods, sushi and boxed lunches ●Breads ●Health foods
■Barber ■Japanese noodle shop ■Curry shop ■Coffee house
B2

F

●Japanese confectioneries ●Western confectioneries
■Cake and cafe ■Coffee house
■Eat-in corner
Kintetsu
Ticket Gate

Parking

Information
Center

Café

Washroom

Powder
Room

Lounge

Multi-purpose
Lavatory
Compartment

Smoking
Area

Nursing
Room

Wheelchair-
accessible
Public Phone

Wheelchair-
accessible
Washroom

ATM
(Seven Bank)

Free
Wi-Fi