Welcome!
Nara Family 
Floor Guide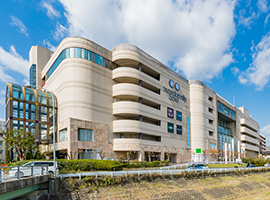 Business Hours:
10:00 AM to 8:00 PM
Accepted credit cards:
Visa, Master Card, American Express, UC,
JCB, Diners Club, other
Address:
2-4-1 Saidaijihigashi-machi, Nara, 631-8511 JAPAN
TRANSPORTATION MAP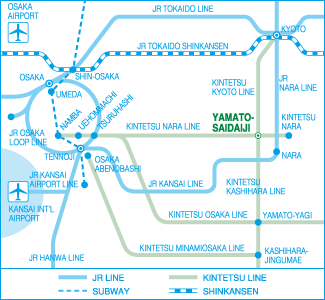 ●From Osaka: Shin-Osaka ⇒ (15 min) ⇒ Namba / Osaka Namba ⇒ (35 min) ⇒ Yamato-Saidaiji
●From Kyoto: Kintetsu Kyoto ⇒ (30 min) ⇒ Yamato-Saidaiji
●From Kintetsu Nara Station: Kintetsu Nara ⇒ (4 min) ⇒Yamato-Saidaiji
ACCESS MAP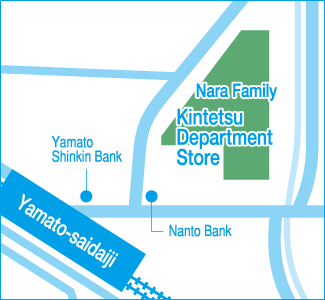 ●You can exchange currency at any bank shown in this map.
●South Entrance, 1F, Coin lockers and bike sharing can be used here.
 
Kintetsu Department Store
AEON Style / Zoro
R

F

 

●Sky Garden (Roof Garden)

6

F

Children's wear / Toys / Event space
[MIKI HOUSE]
Tax Exemption Counter


(Tax refunds)

●Restaurants

●Musik Saal Akishino

5

F

Tokyu Hands /
Furniture / Household products /
Kimonos / Arts and crafts

●Passport office

●Revenue stamps and tobacco products

●Post Office / Japan Post Bank ATM

4

F

Men's wear and accessories / Sportswear
[JINS (Eyeglasses)]
●UNIQLO

Duty-free

●Muji

Duty-free

●Book Sales Floor

●ABC Mart

●Right-on

Duty-free

●Perfect Suit FActory

Duty-free

3

F

Ladies' Wear (Pret-à-Porter), Beauty, Health, Jewelry, Watches and Eyeglasses Floor
2

F

Women's wear (Mature / Young / Working Women / Small sizes)
Underwear
[Wacoal]

AEON Style




●Sundries and Fashion Goods

●PLST

Duty-free

1

F

Select Boutiques & Women's Wear (Women's shoes / Bags / Handkerchiefs / Hosiery / Cosmetics / Sundries)
[Louis Vuitton/Coach/FURLA/Michael Kors]
Information Center


(Guest Coupon services)

AEON Style




●Goods for Beauty, Health and Living

●BEAMS

Duty-free

●Zoff

Duty-free

B1

F

Food
Food Court "Food Oasis"


AEON Style




●Food and Liquor Shops

Restaurant

Cafe

Washroom

Ladies' washroom

Children's washroom

Babies' room

Wheelchair-accessible washroom

ATM

Automatic Vending Machines

Coin lockers